Helping Fredericton Area Homes AND Businesses!
Welcome to PC Girls Computer Services. We offer computer sales AND service for your home or office. Don't worry about unplugging or lugging equipment, we do housecalls too!
We can fix your slow PC, get rid of those nasty pop-ups, and cleanup your viruses, while making sure your data and pictures are safe! Need a consultation in your office? We do that too!
Are you in the market for a new computer but don't want to get stuck with Windows 8? We sell NEW computers – complete with full manufacturer's warranty, and with Windows 7! The best part of buying a computer from us…we do all of the hard work! We'll setup your computer for you specifically, install all of the necessary software, antivirus program, MS Office Starter (Word & Excel), transfer your files & settings from your old computer, setup your email and printer, and any software that you have a license for!
Come in and pick out your new computer today!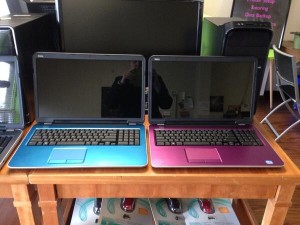 Not sure what to do with your old hard drives? Worried about getting rid of them for fear of data or identity theft? We can guarantee 100% unrecoverable destruction of your media!

Do you have a parent living alone at home and are worried about their wellbeing?
Peace of mind, theirs and yours. There is no place like home. And that is exactly where your loved ones want to continue living.  Now you and Care Link Advantage can keep them there. It's easy. And it's proven.  We are proud to be the NB Dealer for CareLink!
View the Brochure here
Goodbye roaming fees! Using your Canadian phone while traveling in the US is costly because you have to pay roaming charges on top of long distance fees to your current Canadian provider. Roam Mobility connects you directly to a US network, eliminating roaming fees. You'll receive a US phone number that's yours to keep. Our plans are prepaid which means you're not locked into any contracts or monthly fees. Pay for service only when you travel – even if you travel only once a year.