Helping Fredericton Homes & Businesses!
WELCOME TO PC GIRLS, FREDERICTON'S FAVORITE COMPUTER REPAIR COMPANY!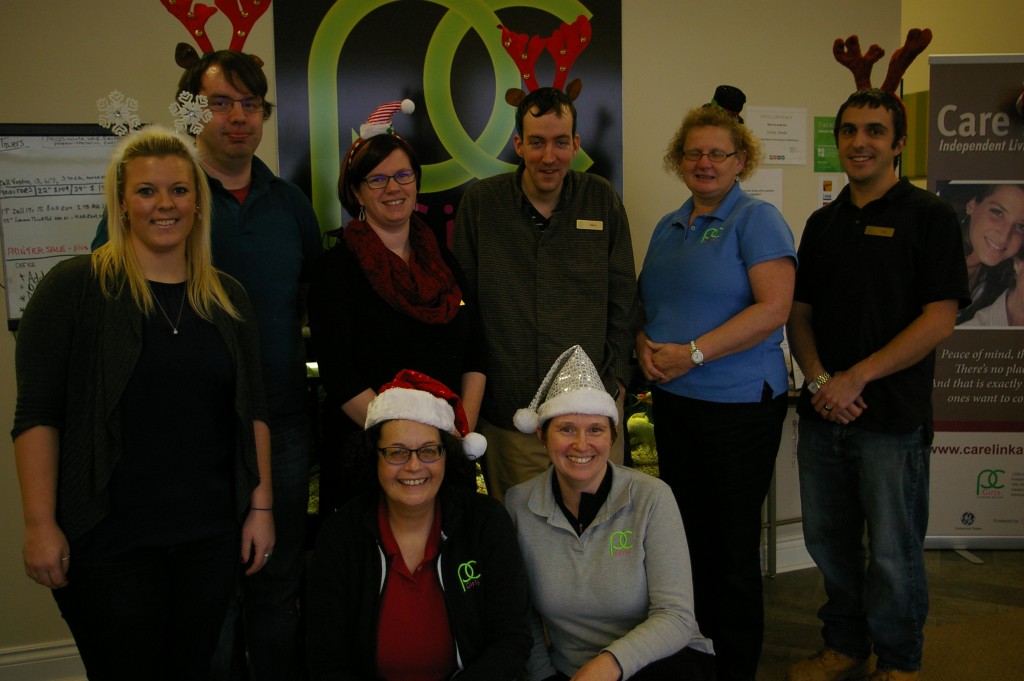 Back L-R: Courtney, Ryan, Dawn-Marie, Allan, Kathy, Chris.    Front L-R: Alison, Andrea
Fall & Winter Hours
Monday – Friday: 8am -6pm
Saturday – by chance or by appointment
Chats are available 7 days/week from 8am – 8pm (Use the Chat box below to start!)
We are currently doing house-calls from 9am – 5pm Mon-Fri . Give us a call today to set yours up! 206-6300
Welcome to PC Girls Computer Services. We offer computer sales AND service for your home or office, and do so with speed, courtesy and professionalism!  Don't worry about unplugging or lugging equipment, we do housecalls too!
We can fix your slow PC, get rid of those nasty pop-ups, and cleanup your viruses, while making sure your data and pictures are safe! Need a consultation in your office, or a Facebook tutorial at home? We do that too!
Did you know that there has been more malware programs created in the last 2 years than in the previous 10 years combined? Don't leave your system security to chance – let PC Girls help you!
Are you in the market for a new computer but don't want to get stuck with Windows 8? We sell NEW computers – complete with full manufacturer's warranty, and with Windows 7! The best part of buying a computer from us…we do all of the hard work! We'll setup your computer for you specifically, install all of the necessary software, antivirus program, MS Office Starter (Word & Excel), transfer your files & settings from your old computer, setup your email and printer, and any software that you have a license for! Don't want new? We also have a variety of refurbished laptops and desktops with 60-day PC Girls warranty! Have something specific in mind? If we don't have it, we can probably get it for you!
How are we doing? Help us get better!
Have you recently used PC Girls service? We are always trying to find ways to improve our customer service. Please click the link below to take our survey and let us know how we did – we appreciate ALL feedback! If you loved our service, let us know. If you didn't love our service, we REALLY want to know!
Tell us how we're doing: Click here to take survey
Stay in touch and up to date!

We are an authorized Lenovo Warranty Depot and carry a variety of Lenovo laptops AND desktops!
INVENTORY IS SUBJECT TO CHANGE BASED ON AVAILABILITY!
Hours of Operation (all times AST)
Mon – Fri: 8:00am – 6:00pm
Chat service available 7 days/week from 8am – 8pm
Saturday: by appointment or by luck 
Emergency and after hours services are available at a premium rate.
Rates (all items subject to HST)
Housecall – $70/hr
In Shop – $40/hr
Hardware Diagnostic Fee – $50
Data Recovery – from $150
Mac support (software only) – $55/hr

Do you have a parent living alone at home and are worried about their wellbeing?
Peace of mind, theirs and yours. There is no place like home. And that is exactly where your loved ones want to continue living.  Now you and Care Link Advantage can keep them there. It's easy. And it's proven.  We are proud to be the NB Dealer for CareLink!
View the Brochure here