Helping Fredericton Area Homes AND Businesses!
Last minute Christmas shopping? Drop in to see what we have to offer!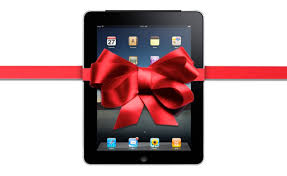 We now have refurbished iPads – starting at $295! The perfect gift to give (or get…) for Christmas!
Christmas Hours:
Monday Dec. 22 & Tuesday, Dec. 23 – 8am -6pm
Wednesday, Dec. 24 –  8am -1pm
Thursday, Dec. 25th & Friday, Dec. 26th  closed as we spend time with our families
Monday, Dec. 29th & Tuesday, Dec. 30th –  8am -6pm
Wednesday, Dec. 31st – 8 am -3pm
Thursday, Jan. 1st –  closed
Friday, Jan. 2nd – 8am -6pm
Welcome to PC Girls Computer Services, Fredericton Chamber of Commerce Business Excellence Award finalists for 2013. We offer computer sales AND service for your home or office, and do so with speed, courtesy and professionalism!  Don't worry about unplugging or lugging equipment, we do housecalls too!
We can fix your slow PC, get rid of those nasty pop-ups, and cleanup your viruses, while making sure your data and pictures are safe! Need a consultation in your office, or a Facebook tutorial at home? We do that too!
Are you in the market for a new computer but don't want to get stuck with Windows 8? We sell NEW computers – complete with full manufacturer's warranty, and with Windows 7! The best part of buying a computer from us…we do all of the hard work! We'll setup your computer for you specifically, install all of the necessary software, antivirus program, MS Office Starter (Word & Excel), transfer your files & settings from your old computer, setup your email and printer, and any software that you have a license for!
We are an authorized Lenovo Warranty Depot and carry a variety of Lenovo laptops AND desktops!
JUST ARRIVED:
Dell Latitude 8″ tablets . 64GB, Windows 8.1 Pro with touchscreen, micro USB charging port, full size USB, SD Card reader, mini-HDMI port and a Kensington lock port! 1 year Dell warranty! ($199)  They ALSO include Microsoft Office 2013!!
We now carry Refurbished laptops and Desktops!
All of our refurbished computers have Windows 7 Home Premuim, and are all set up – complete with Windows Updates, all device drivers, Windows Live Essentials, Java, Flash Player, Adobe Reader, Microsoft Security Essentials and Microsoft Office Starter. Below is an example of our inventory, but please note that INVENTORY IS SUBJECT TO CHANGE BASED ON AVAILABILITY!
Dell Optiplex Tower 745, Intel core 2 Duo 3.33GHz ($249)
2GB RAM / 160GB HDD /  Windows 7 Home Premium, 64 bit, DVD/RW, VGA, Gigabit Ethernet, 8 x USB, Dell USB keyboard & mouse, all setup with updates & Microsoft Office Starter. Includes: 60 day PC Girls warranty
HP EliteBook 8530p Laptop ($285)
15.6" screen, Windows 7 Home Premium 64 Bit, 2GB RAM, 160 GB HDD, CD/DVD, HDMI, Wireless, ethernet, 4 x USB, VGA, HP AC power adapter. All setup with updates, antivirus and Microsoft Office Starter 60 day PC Girls warranty
Hours of Operation
Mon – Fri: 8:00am – 6:00pm
Saturday: Closed
Emergency and after hours services are available at a premium rate.
Rates (all items subject to HST)
Housecall – $70/hr
In Shop – $40/hr
Hardware Diagnostic Fee – $50
Mac support (software only) – $55/hr
Tell us how we're doing: Click here to take survey

Do you have a parent living alone at home and are worried about their wellbeing?
Peace of mind, theirs and yours. There is no place like home. And that is exactly where your loved ones want to continue living.  Now you and Care Link Advantage can keep them there. It's easy. And it's proven.  We are proud to be the NB Dealer for CareLink!
View the Brochure here
Goodbye roaming fees! Using your Canadian phone while traveling in the US is costly because you have to pay roaming charges on top of long distance fees to your current Canadian provider. Roam Mobility connects you directly to a US network, eliminating roaming fees. You'll receive a US phone number that's yours to keep. Our plans are prepaid which means you're not locked into any contracts or monthly fees. Pay for service only when you travel – even if you travel only once a year.